Hey little spookies! About the same time last year I made a post about some of my favorite Halloween-y movies. Here are some more of my favorite spooky movies to watch this month. 🦇🎃👻 I will also be rating the level of "scariness" each movie is.
Level of Spookies:
🦇 (1 bat) = Not Scary, Family Friendly
🦇🦇 (2 bats) = Spooky Vibes
🦇🦇🦇 (3 bats) = A Little Scary but Manageable
🦇🦇🦇🦇 (4 bats) = Pretty Scary
🦇🦇🦇🦇🦇 (5 bats) = Very Scary/I couldn't sleep
Carrie (1976 version)
Carrie is about a girl who is sheltered by her religious mother and unleashes her newfound telekinetic powers on her classmates after being humiliated at her senior prom. In my opinion, this is such a classic horror movie that I watch almost every year around this time of year. Even my mom, who does not like anything remotely scary, loves it. Spooky Rating: 🦇🦇🦇
The Craft
The Craft is about these 3 wannabe witches who find themselves drawn to the new student transfer after discovering her telekinetic powers. Together the four girls experiment with spells, which have their own consequences. This movie will never get old and is another classic like Carrie. For me, this earns a Spooky Rating of 🦇🦇 but for I can understand that for some it can be 🦇🦇🦇. (Content Warning: sexual assault)
Mr. Sardonicus
Mr. Sardonicus tells the tale of Robert, a doctor studying paralysis, who receives a letter from a childhood sweetheart asking for his help with her husband, Baron Sardonicus. Baron threatens to harm his wife if Robert does not heal his strange condition. This is based off of the short story by Ray Russell and I absolutely love it. Spooky Rating: 🦇🦇
Death Becomes Her
Death Becomes Her follows rivals Madelaine and Helen as they drink a magic potion that grants them eternal youth as long as they take care of their bodies. But when their bodies physically die, they experience some odd side effects and become "live" corpses. I think this movie is very underrated and has become another favorite. Spooky rating: For me it was 🦇 (I did see this movie first as a child) but it can be 🦇🦇 depending how comfortable you are with slight sexual tones (no nudity/sex scenes, innuendos if you will) (*update: after watching the movie again, I realized there is some nudity but nothing explicit)
As Above So Below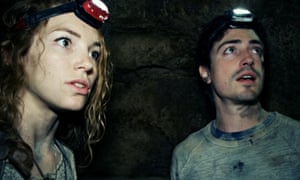 As Above So Below is a found footage style of movie that follows a team as they search Paris' catacombs for Flamel's Philosopher Stone. However, their journey reveals that our past demons will come back to haunt us all. I could go on and on about this movie and how well done it was made. I did have to watch a second time to fully understand what exactly happened and each times I watch it, it's like I find something new. If you do decide to watch it, it helps to understand the gist of Dante's Inferno. This movie definitely deserves a Spooky Rating of 🦇🦇🦇🦇🦇. There are jump scares, gore, and depictions of human remains (it's set in the catacombs so obviously you'll see some skeletons)
That's all the movies I have for today. I know I have a lot of posts to catch up on so hopefully I will be uploading more often this month. Stay spooky!