Hey bookworms! Welcome to another bookish playlist! This time it's for the awesome book The Disasters by M. K. England.
If you don't know about The Disasters, here's the description: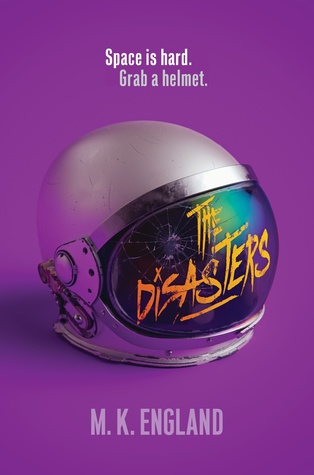 Hotshot pilot Nax Hall has a history of making poor life choices. So it's not exactly a surprise when he's kicked out of the elite Ellis Station Academy in less than twenty-four hours.
But Nax's one-way trip back to Earth is cut short when a terrorist group attacks the Academy. Nax and three other washouts escape—barely—but they're also the sole witnesses to the biggest crime in the history of space colonization. And the perfect scapegoats.
On the run and framed for atrocities they didn't commit, Nax and his fellow failures execute a dangerous heist to spread the truth about what happened at the Academy.
They may not be "Academy material," and they may not get along, but they're the only ones left to step up and fight.
Disclaimer: There may be slight spoilers!
My Sweet Lord – George Harrison | When reading this, I got major Guardians of the Galaxy vibes so some of these songs are from the films that would also work for this book.
The Chain – Fleetwood Mac | *What is Guardians of the Galaxy without some Fleetwood Man? the same now applies to the Disasters* I chose this one because even though they have their differences and don't get along at first, the four of them eventually came together and become a unit. They link together like a chain using their own unique abilities to support each other in order to save the galaxy from Earth First.
Dead End Justice – The Runaways | I could picture the beginning guitar playing as The Disasters are walking slo-mo out of the Honda Breakbolt Mark III (aka The Swift Kick).
Southern Nights – Glen Campbell | I can't remember why I added this but still a good song.
Breaking the Law – Judas Priest | A very fitting song for a brand of outcasts who are breaking the law for a greater cause.
Keep Yourself Alive – Queen | For like that part where they escaped (not going to go into specifics to avoid any more spoilers)
Barracuda – Heart | Great background music for some action scenes.
Tom Sawyer – Rush | For some more action scenes.
Addicted to That Rush – Mr. Big | When Nax comes to realize why he was so into piloting in the first place.
Heroes – David Bowie | I was going to go with one of the space themed songs Bowie has but I found this one much more suiting for the Disasters.
Hope you enjoyed this bookish playlist. Until next time!