Hello bookworms!
As the title suggests, I'll be cleaning up my "to read" folder on Goodreads. Over the years books have been added left and right and I never get around to reading them or actually go out and buy them. Or there are some books I just added because there's a giveaway then forgot about the book and it no longer interests me. Don't worry I won't bore you with a super long list, but rather I'll only go until I reach 5-10 books. This will be a multi-part post since there are over 300 books on my list.
Eleanor and Park – Rainbow Rowell | I know this is beloved by a lot of people, my cousin included, but I just can't see myself reading it anymore. Before I would walk into Barnes and Noble with my Goodreads list on my phone and every time I would just skip over this book. So… bye-bye.
Hold Me Closer, Necromancer – Lish McBride | Once upon a time, this interested me but as time went on and the more I forgot about it, the less I cared. Maybe one day I'll read this but for now I' just going to get rid of it.
The Language of Fear – Del James | First semester of uni I had to write a paper analyzing a music video and I chose November Rain by Guns N Roses. Long story short, at the end of my research I found out that that video is part of a trilogy of music videos based off of this book written by a friend of lead singer, Axl Rose. I was really interested in reading it until I couldn't find it online to buy it; then I realized, it's out of print and I say I'm going to delete it from my list but I always forget. Now's my chance. I do want to read it someday if I manage to find a copy.
The Secrets You Keep – Kate White | I don't ever remember adding this to my list therefore bye-bye!!!
Mosquitoland – David Arnold | Saw this at a second-hand bookstore and it intrigued me but I had already reached my spending limit so I said maybe next time and by next time it was gone. Then as time went on, the less interested I got. (Moral of the story: always get the book)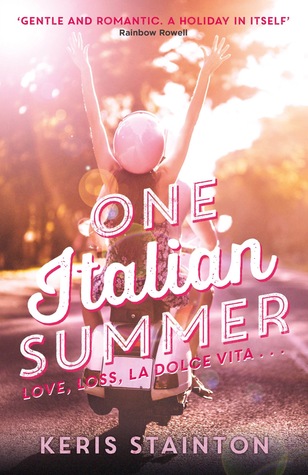 One Italian Summer – Keris Stainton | I have a feeling this was one of the mood books I added because there was a time when I was taking Italian classes that I wanted to read books set in Italy or in Italian. It's been 2 years and I haven't bought it nor have the desire to read it.
The Future She Left Behind – Marin Thomas | Once again I on't ever remember adding these. I'm sure these were the giveaways I entered and never won because who even wins Goodreads giveaways? (I may be a tad bitter in case that wasn't obvious)
Start Without Me – Joshua Max Feldman | Don't remember, good bye!
Who's That Girl – Blair Thornburgh | Don't remember, good bye!
The Trick – Emanuel Bergmann | Don't remember, good bye!
*Note: I'm not saying any of these books are "bad" my reading tastes have most likely changed or I really don't see myself reading them any time soon and they're just collecting digital dust on my Goodreads page.
I'm not sure how often I will make these, but I do want to finish cleaning out my Goodreads to-read list.
Want to be friends on Goodreads? Click here to add me and I'll add you back!
Until next time!