Hello bookworms!
This time around I didn't get to read as many books as I would've liked to. Most of the month consisted of me staring at my TBR pile and not knowing what I'm in the mood for… and then I reread a book. Bottom line: not much progress has been made since January.
What I read in February-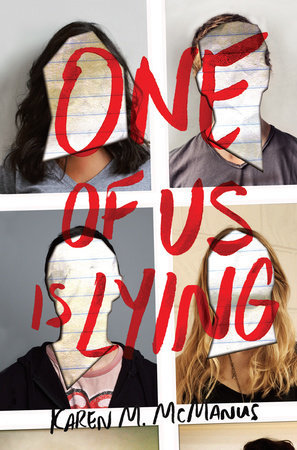 One of Us Is Lying – Karen M. McManus | Rating: ☆☆☆☆☆/ 5 I absolutely loved this book I don't know how to express exactly how I feel but just know that I am "patiently" waiting for 2020 for the sequel.
Jim Henson's Labyrinth: Coronation Vol. 1 – Simon Spurrier | Rating: ☆☆☆☆☆/ 5 I love, love, LOVE Labyrinth and I was kind of offended that I didn't know about the comics. Nikita got this for me for Christmas and I flipped out when I saw it. I absolutely love the idea of giving Jareth a backstory as to how he became the Goblin King and aaaghh! And you best believe I devoured this within a few hours and I also need Vol. 2 as soon as possible. Favorite quote: "... so perhaps it's time we stopped letting our hearts guide us."
Heartless – Marissa Meyer | Rating: ☆☆☆☆☆/ 5 Another 5 star read because this is a reread and I still love it. I decided to reread this for Valentine's day since I like to be sad and bitter. And yes, this still managed to rip my heart out and rip it to shreds, but I'm fine 🙂
As I mentioned earlier, not much progress has been made since last month. I still need to finish Nick and June Were Here so I can upload a review on it. I don't know if it's just me but reading e-books takes so much longer than reading a physical copy. I don't mind e-books really, I just feel like I take longer to read them since they're not physically there (ex- my bookshelf) to remind me to read it. Does this happen to you too or am I just weird? (completely ok if you think I am – I'm going to pull a Jughead and say, "I'm weird. I'm a weirdo.")
Until next time!