Hey Bookworms!
As I mentioned in the last post, instead of adding my current reads to that post, I will be making it a separate post so it wouldn't be too long. Now these books are books I started in late January but am carrying them over to February.
Nick and June Were Here – Shalanda Stanley | Here's the second ARC of the year. Spoiler-free review to come within the next 2 weeks! Description:

"Nick and June were best friends for years, until their relationship suddenly turned into something more. Now, June is coping with a new diagnosis of schizophrenia, a secret she asked Nick to keep for too long. Between managing her symptoms and her parents, June is just trying to keep it together. Nick is a reluctant car thief, supporting his aunt with the money and focusing on his art whenever he can. But when June's condition sends her to the hospital and Nick's latest crime threatens to land him in prison, the two decide to run away. When the world is trying to tear them apart, can Nick and June find a way to stay together?"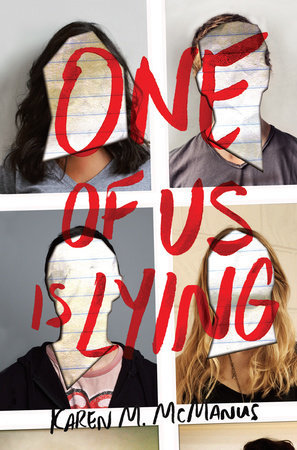 One of Us is Lying – Karen M. McManus | I've been wanting to read this for soooo long! Finally got my hands on it last month and I'm hoping to get the sequel soon as well. (Also, yes. It is weird reading a book where one of the main characters has the same name as you. even weirder that the character has a completely different personality than me. I'd say I'm more like Bronwyn. Also, this is the first time I see my name spelled the same. It's always 'Addie' never 'Addy') Description:
"Pay close attention and you might solve this.
On Monday afternoon, five students at Bayview High walk into detention.
Bronwyn, the brain, is Yale-bound and never breaks a rule. 
Addy, the beauty, is the picture-perfect homecoming princess. 
Nate, the criminal, is already on probation for dealing.
Cooper, the athlete, is the all-star baseball pitcher.
And Simon, the outcast, is the creator of Bayview High's notorious gossip app. 
Only, Simon never makes it out of that classroom. Before the end of detention, Simon's dead. And according to investigators, his death wasn't an accident. On Monday, he died. But on Tuesday, he'd planned to post juicy reveals about all four of his high-profile classmates, which makes all four of them suspects in his murder. Or are they the perfect patsies for a killer who's still on the loose? 
Everyone has secrets, right? What really matters is how far you would go to protect them."
Welp, that's how I'll be starting my February. What are you currently reading? Until next time!