Hello bookworms!
Can you believe we're already a whole month into 2019? Not only that but school feels like it's going by quickly; we're already in week 3! I feel like class is going by so fast that I don't even have time to process things and my time management is horrible right now; I'm still on winter break mode. (Which probably explains why I spent 2 hours the other day watching a Shane Dawson conspiracy video instead of studying for a quiz the next day)
Anyway, this month I surprised myself by reading a grand total of 9 books! That's a pretty good number (to me at least) because lately I've been slacking with reading so we're starting this year strong! I almost started to slack off during this month too because most of the books I read this month were a flop for me or there were so many books I wanted to read at the same time and I just couldn't decide.
Well, enough rambling here's my January wrap up:
Ten Things I Can See From Here – Carrie Mac | My rating ☆☆/ 5. I don't even know what to make of this. I wanted to like it but I just couldn't. I walked in hoping it was about the main character coming to terms with her anxiety and how she copes with it but right from the start she already has her own coping mechanisms and is seeing a therapist. And it sort of felt somewhat anti-climatic. Like yeah shit happened but it was more of "well, it happens. what can you do?" type of thing. The "plot twist" felt super random too. Ok, I better stop before I spoil the whole book.
Welcome to the Dark House – Laurie Faria Stolarz | My rating ☆☆☆/ 5. Even though this book was super cheesy and cliche, I couldn't help but get hooked. Whole concept of the "contest" and what happens afterwards is just fucked up and weird (2019 Addy is getting more brave with cursing here) but you can't help but to keep reading.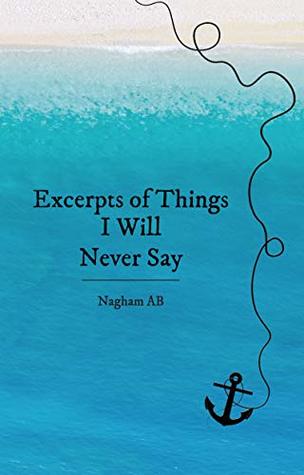 Excerpts of Things I Will Never Say – Nagham AB | My rating ☆☆☆/ 5 I liked some of these poems although I vaguely remember them now. (oops…)
The Moon Can Take His Time – Baleigh Roberts | My rating ☆☆☆☆☆/5 I really enjoyed this collection of poetry. It centered around women and women going through the various stages of heartbreak and the stereotypes women are labeled with. I barely know what heartbreak is compared to others but I can definitely imagine what it would be like with these poems.
A World of Naught – Yusuf | My rating ☆☆☆☆/5 (although I don't remember why) True story: I forgot what the author's name was when reading this and in some poems they referred to them self and I remember thinking "who the fuck is Yusuf and why is the author keep mentioning them?" It wasn't until after that I realized they were referring to them self. Trigger warning: self harm.
Wonder Woman, Volume 4: Godwatch – Greg Rucka | My rating ☆☆☆☆/ 5. I definitely want to start reading more comics this year and I got some cool ones this month too from my neighbor who was giving away her doubles. Whether you count comic books or not that's you, but I'm gonna count this anyway because it's a volume meaning its a bigger comic with more pages.
Marlena – Julie Buntin | My rating ☆☆/ 5. My cousin and I won these as part of a Belletrist giveaway and it's been almost 3 years since the contest and we haven't read them til now. However, my cousin never got past 20 pages but I pushed myself to do it and my god I wish I could go back.. The book was… very uneventful. I felt like the narrator was just retelling stories of her youth with her best friend Marlena who died (it's clear in the description that Marlena is dead). I thought it would be like a cool mystery about her solving the murder 20 years later but nope. Just nothing but telling stories about their youth and her current alcoholism. Just meh.
Bleed Like Me – Azzurra Nox | My rating ☆☆☆/ 5. Given the title I should've expected this to be gory and detailed, but I just looked past it and went along any way. This is my first ARC of the year and of course, it's a poetry collection. I'm not gonna lie, I did like some of the poems but I found myself skipping a lot of them because of how vivid the imagery was for suicide, self-harm, etc. Although I am more stable than I was a few years ago, self-harm doesn't trigger me as much as it used to but I found some of the poems triggering enough to skip after a few lines. So I would warn against that if you have any triggers of that sort. (But I do have to say I LOVE the cover artwork).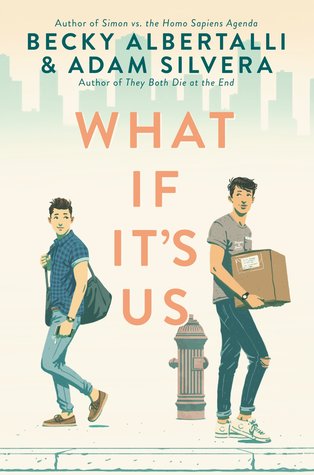 What If It's Us – Becky Albertalli and Adam Silvera | My rating ☆☆☆☆/5. I thought this was a really cute read but that was kind of it. However it did make me realize that Albertalli's character tend to be Jewish and Harry Potter super fanatics. I'm not bashing on the Jewish part, I'm all for diversity, but sometimes the Harry Potter fanatic part can be quite…. annoying after a while. Maybe it's just because I'm not a super fan like other people it's just meh to me. I never finished reading the books and really don't plan to. But that's just my opinion and if you think so otherwise, you do you.
Well, there you have it. I know this post must've been quite lengthy and I was going to include my current reads but I best save that for another post. Until next time, bookworms!