Hi, hello, it's been a while. I know. I was honestly contemplating on shutting down this site, but I'd miss blogging. Now why would I shut it down? Because I was in a huge slump and sort of disappeared from the book community for a while and then sort of didn't feel like blogging anymore. Well, I don't think I'll shut this site down just yet, but I do want to give it a makeover sometime soon.
Anyway, this week's T5W prompt is:
September 12th: Books For My Younger Self
— Books that you wish your younger self would have read to learn a life lesson, get more self confidence, open your eyes to a new perspective, etc.
The Upside of Unrequited – Becky Albertalli | I think it was sort of rare to find a book about a plus-sized main character who wasn't the awkward, shy friend of the pretty, popular skinny main character. I would have loved to have read this when I was much younger and more self-conscious about my body and worrying about if I'm too fat or not pretty enough for boys. It would have helped me accept myself for how I am and really n not care about what others think and focus on more important things. And even though reading it at 19 helped me realize these things, I think it would have impacted me more if I read it when I was at my most self-conscious (around 12-13).
It's Kind of a Funny Story – Ned Vizzini | I read this after watching the movie in my AP Psychology class during my senior year of high school and although I was going through a pretty rough depression during that time I do wish I read this at the lowest point of my depression. I'm not going to go too into detail about that, but I will say it would have helped me come up with healthy coping mechanisms much sooner.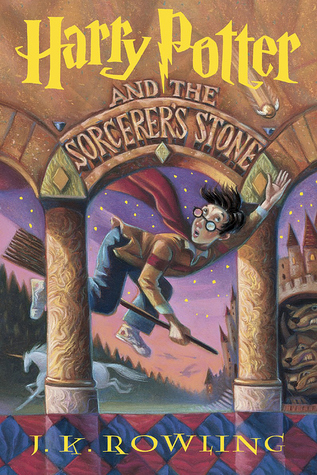 Harry Potter series – J.K. Rowling | I wish I was exposed more to the world of Harry Potter much sooner. I think it would've helped me really be into the fandom and "grow up" with the franchise like most people I know. But I didn't because I have a very Catholic mother who deemed it demonic and sort of forbade us to have anything to do with it, but we were still exposed to it because of our neighbor's daughter (aka my mom's best friend's daughter). I could read them now as an adult and I've tried but I can't seem to find the will to continue. It's already spoiled on the internet and I've decided I can live without it, pretty much. I do like it, but I wouldn't consider myself a huge fan. Just meh.
*Ok so time to sort of bend the rules. I couldn't really think of any more books so here are books I read as a child (sort of) that I really shouldn't have. In my defense, I was mature for my age (had to grow up fast) and my older sister would take me to Borders (RIP) and pretty much let me pick what I wanted without question.
Maybe This Time? – Jennifer Crusie | At first, I thought maybe this is a spooky story with a hint of romance in it and I was right but I underestimated the romance part. I know, naive 13-year-old Addy didn't get the hint with the cover that this would be one of those romance books. Ok, no it wasn't exactly an erotica, but there were scenes that weren't age appropriate. Although it was a good book, I maybe should have waited to read it.
Devious – Lisa Jackson | As with the previous book, I thought this might be a cool crime thriller and I wasn't exactly wrong, but there were scenes that weren't age appropriate. Yes, these were read within the same year, as if I didn't learn my lesson the first time. However, I don't think I finished it and I don't necessarily plan to continue it either. It's just meh.
That's all folks!  I really hope I will be able to maintain the same blogging schedule now with school having started.