Hey Bookworms! 
I recently saw this over at Caitstiel's Book World and decided to give it a try. For this I will see which books that Goodreads recommends based on my 'read' I would actually read. I will pick my favorite genres and will look at the first 5 (since there are tons of books Goodreads recommended me).
Contemporary:
None of the Above – I. W. Gregorio
Because I read Simon vs. the Homo Sapiens Agenda – Becky Albertalli
A groundbreaking story about a teenage girl who discovers she was born intersex… and what happens when her secret is revealed to the entire school. Incredibly compelling and sensitively told, None of the Above is a thought-provoking novel that explores what it means to be a boy, a girl, or something in between.

What if everything you knew about yourself changed in an instant?

When Kristin Lattimer is voted homecoming queen, it seems like another piece of her ideal life has fallen into place. She's a champion hurdler with a full scholarship to college and she's madly in love with her boyfriend. In fact, she's decided that she's ready to take things to the next level with him.

But Kristin's first time isn't the perfect moment she's planned—something is very wrong. A visit to the doctor reveals the truth: Kristin is intersex, which means that though she outwardly looks like a girl, she has male chromosomes, not to mention boy "parts."

Dealing with her body is difficult enough, but when her diagnosis is leaked to the whole school, Kristin's entire identity is thrown into question. As her world unravels, can she come to terms with her new self?
Verdict: Yes. I've been wanting to expand my horizons and read more LGBTQ+ books.
Wanderlost – Jen Malone
Because I read When We Collided – Emery Lord and The Way Back to You – Michelle Andreani 
Not all those who wander are lost, but Aubree Sadler most definitely is on this novel's whirlwind trip through Europe.

Aubree can't think of a better place to be than in perfectly boring Ohio, and she's ready for a relaxing summer. But when her older sister, Elizabeth, gets into real trouble, Aubree is talked into taking over Elizabeth's summer job, leading a group of senior citizens on a bus tour through Europe.

Aubree doesn't even make it to the first stop in Amsterdam before their perfect plan unravels, leaving her with no phone, no carefully prepared binder full of helpful facts, and an unexpected guest: the tour company owner's son, Sam. Considering she's pretending to be Elizabeth, she absolutely shouldn't fall for him, but she can't help it, especially with the most romantic European cities as the backdrop for their love story.

But her relationship with Sam is threatening to ruin her relationship with her sister, and she feels like she's letting both of them down. Aubree knows this trip may show her who she really is—she just hopes she likes where she ends up.
Verdict: Yes. I'm very intrigued now. 
Phantom Limbs – Paula Garner
Because I read When We Collided – Emery Lord
How do you move on from an irreplaceable loss? In a poignant debut, a sixteen-year-old boy must learn to swim against an undercurrent of grief—or be swept away by it.

Otis and Meg were inseparable until her family abruptly moved away after the terrible accident that left Otis's little brother dead and both of their families changed forever. Since then, it's been three years of radio silence, during which time Otis has become the unlikely protégé of eighteen-year-old Dara—part drill sergeant, part friend—who's hell-bent on transforming Otis into the Olympic swimmer she can no longer be. But when Otis learns that Meg is coming back to town, he must face some difficult truths about the girl he's never forgotten and the brother he's never stopped grieving. As it becomes achingly clear that he and Meg are not the same people they were, Otis must decide what to hold on to and what to leave behind. Quietly affecting, this compulsively readable debut novel captures all the confusion, heartbreak, and fragile hope of three teens struggling to accept profound absences in their lives.
Verdict: Yes! I've been wanting to read this and I can't believe I haven't added it to my 'want to read' list.
The Only Thing Worse Than Me is You – Lily Anderson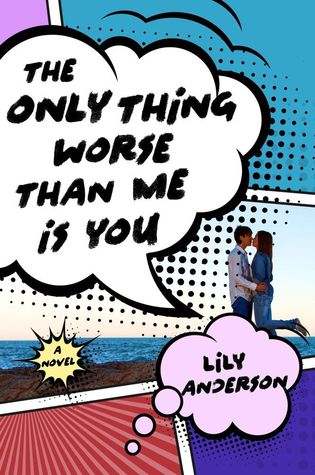 Because I read Tell Me Three Things – Jullie Buxbaum
Trixie Watson has two very important goals for senior year: to finally save enough to buy the set of Doctor Who figurines at the local comic books store, and to place third in her class and knock Ben West–and his horrendous new mustache that he spent all summer growing–down to number four.

Trixie will do anything to get her name ranked over Ben's, including give up sleep and comic books–well, maybe not comic books–but definitely sleep. After all, the war of Watson v. West is as vicious as the Doctor v. Daleks and Browncoats v. Alliance combined, and it goes all the way back to the infamous monkey bars incident in the first grade. Over a decade later, it's time to declare a champion once and for all.

The war is Trixie's for the winning, until her best friend starts dating Ben's best friend and the two are unceremoniously dumped together and told to play nice. Finding common ground is odious and tooth-pullingly-painful, but Trixie and Ben's cautious truce slowly transforms into a fandom-based tentative friendship. When Trixie's best friend gets expelled for cheating and Trixie cries foul play, however, they have to choose who to believe and which side they're on–and they might not pick the same side.
Verdict: Nah.
Memoirs of a Teenage Amnesiac – Gabrielle Zevin
Because I read Thirteen Reasons Why – Jay Asher
If Naomi had picked tails, she would have won the coin toss. She wouldn't have had to go back for the yearbook camera, and she wouldn't have hit her head on the steps. She wouldn't have woken up in an ambulance with amnesia. She certainly would have remembered her boyfriend, Ace. She might even have remembered why she fell in love with him in the first place. She would understand why her best friend, Will, keeps calling her "Chief." She'd know about her mom's new family. She'd know about her dad's fiancée. She never would have met James, the boy with the questionable past and the even fuzzier future, who tells her he once wanted to kiss her. She wouldn't have wanted to kiss him back.

But Naomi picked heads.

After her remarkable debut, Gabrielle Zevin has crafted an imaginative second novel all about love and second chances.
Verdict: Yes. 
Poetry:
The Anatomy of Being – Shinji Moon
Because I Read Milk and Honey – Rupi Kaur
As Shinji Moon's debut book of poetry, The Anatomy of Being is youthful and fragmented, a journey inward from the perspective of the hopes and pains of adolescence. Broken up into four chapters, she holds your hand and takes you inward with her, from skin to flesh, to flesh to bones, from bones to all that lies within. Both heartbreaking and hopeful, The Anatomy of Beingmarks a very distinct time in a young girl's life, and aches and aches to be heard and devoured. 
Verdict: Yes. I  have been wanting to read this and I thought I had saved it in my 'want to read' list, but I guess I didn't after all. 
; (Semicolon) – x q
Because I read I Wrote This For You – Pleasefindthis
One day, I might perhaps become something so small and insignificant to you that you only think of me as often as you think of the little particles of dust that you can see floating around the window in the late afternoon sun.
If I'm lucky enough, you'll think of me as often as never thinking of me again at all.
Verdict: Yes. I am intrigued.
What We Buried – Caitlyn Siehl
Because I read Milk and Honey – Rupi Kaur
This book is a cemetery of truths buried alive. The light draws you in where you will find Caitlyn there digging. When you get close enough, she'll lean in & whisper, Baby, buried things will surface no matter what, get to them before they get to you first. Her unbounded love will propel you to pick up a shovel & help- even though the only thing you want to do is kiss her lips, kiss her hands, kiss every one of her stretch marks & the fire that is raging in pit of her stomach. She'll see your eyes made of devour & sadness, she'll hug you & say, Baby, if you eat me alive, I will cut my way out of your stomach. Don't let this be your funeral. Teach yourself to navigate the wound.
Verdict: WHoa… Yes!
You Are Not Here – Samantha Schutz
Because I read Stop Pretending – Sonya Sones
Annaleah and Brian shared something special – Annaleah is sure of it. When they were together, they didn't need anyone else. It didn't matter that their relationship was 
secret. All that mattered was what they had with each other.

And then, out of nowhere, Brian dies. And while everyone else has their role in the grieving process, Annaleah finds herself living outside of it, unacknowledged and lonely. 
How can you recover from a loss that no one will let you have?
Verdict: Awwww… Yes.
All the Things I Never Said – Mae Krell 
Because I read I Wrote This for You – Pleasefindthis
All The Things I Never Said is a collection of poetry and journal-like entries. Throughout the pages you will experience heartbreak, happiness, sadness, and be reminded of what it was like to be a teenager.
Verdict: Yes.
Young Adult:
Crank – Ellen Hopkins
Because I read Go Ask Alice – Anonymous 
In Crank, Ellen Hopkins chronicles the turbulent and often disturbing relationship between Kristina, a character based on her own daughter, and the "monster," the highly addictive drug crystal meth, or "crank." Kristina is introduced to the drug while visiting her largely absent and ne'er-do-well father. While under the influence of the monster, Kristina discovers her sexy alter-ego, Bree: "there is no perfect daughter, / no gifted high school junior, / no Kristina Georgia Snow. / There is only Bree." Bree will do all the things good girl Kristina won't, including attracting the attention of dangerous boys who can provide her with a steady flow of crank.
Verdict: Yes. I did enjoy Go Ask Alice so maybe I'll enjoy this one too.
Sisters Red – Jackson Pearce
Because I read Cinder – Marissa Meyer
Scarlett March lives to hunt the Fenris — the werewolves that took her eye when she was defending her sister Rosie from a brutal attack. Armed with a razor-sharp hatchet and blood-red cloak, Scarlett is an expert at luring and slaying the wolves. She's determined to protect other young girls from a grisly death, and her raging heart will not rest until every single wolf is dead.

Rosie March once felt her bond with her sister was unbreakable. Owing Scarlett her life, Rosie hunts ferociously alongside her. But even as more girls' bodies pile up in the city and the Fenris seem to be gaining power, Rosie dreams of a life beyond the wolves. She finds herself drawn to Silas, a young woodsman who is deadly with an ax and Scarlett's only friend — but does loving him mean betraying her sister and all that they've worked for?
Verdict: YES. I love fairy-tale retellings!
Grave Mercy – Robin LaFevers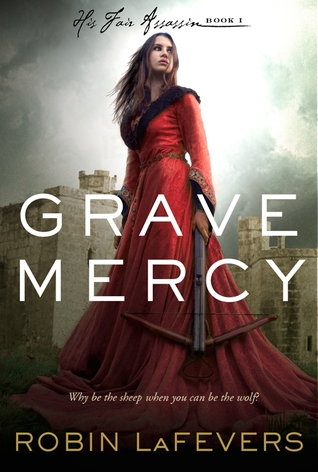 Because I read Scarlet – Marissa Meyer, A Court of Thorns and Roses – Sarah J. Maas
Seventeen-year-old Ismae escapes from the brutality of an arranged marriage into the sanctuary of the convent of St. Mortain, where the sisters still serve the gods of old. Here she learns that the god of Death Himself has blessed her with dangerous gifts—and a violent destiny. If she chooses to stay at the convent, she will be trained as an assassin and serve as a handmaiden to Death. To claim her new life, she must destroy the lives of others.

Ismae's most important assignment takes her straight into the high court of Brittany—where she finds herself woefully under prepared—not only for the deadly games of intrigue and treason, but for the impossible choices she must make. For how can she deliver Death's vengeance upon a target who, against her will, has stolen her heart?
Verdict: I am very intrigued now… Yes!
A Shadow of Bright and Burning – Jessica Cluess
Because I read And I darken – Kiersten White, Heartless – Marissa Meyer
I am Henrietta Howel. The first female sorcerer. The prophesied one. Or am I?

Henrietta Howel can burst into flames. When she is brought to London to train with Her Majesty's sorcerers, she meets her fellow sorcerer trainees, young men eager to test her powers and her heart. One will challenge her. One will fight for her. One will betray her. As Henrietta discovers the secrets hiding behind the glamour of sorcerer life, she begins to doubt that she's the true prophesied one. With battle looming, how much will she risk to save the city–and the one she loves?
Verdict: Yes! I've been meaning to read more fantasy novels.
Unaccompanied Minor – Hollis Gillespie
Because I read Perdita – Faith Gardner
Fourteen-year-old April May Manning spent her life on airplanes with her flight attendant parents. When her father dies in a crash, April's mom marries a pilot who turns out to be an abusive jerk, and gets Mom confined to a psychiatric hospital. So April takes off, literally, living on airplanes, using her mother's flight benefits, relying on the flight crews who know she's been shuttling between divorcing parents for a year. Then, there's a hijacking, but why is April's "dad" on board? April flees to the cargo hold with another unaccompanied minor she's met before, and they fight to thwart the hijackers, faking a fire, making weapons from things they find in luggage. At last, locked in the cockpit with a wounded police officer, the boy, and his service dog, April tries to remember everything her parents said to do in a crisis above the clouds. But she knows it won't be enough.
Verdict: Sounds like a mess… hmmm… nah.
I'd better end here before this ends up becoming an even longer post. If you stuck around this far, thank you! Overall, Goodreads did pretty good recommending books and I have expanded my 'to be read' list even more *nervous laugh.* This was pretty fun to do and maybe I'll do an updated one in a few months or next year!
Until next time!