Hey Bookworms!
One of the things I love to do but don't get to do often is travel. One day I want to travel across Europe or even to other states besides my own. Another thing I want to do is travel across the world and visit the most beautiful libraries or bookstores out there because who doesn't want to visit a bookshop inside an old opera house?
The Last Bookstore – Los Angeles, CA
This one is less than half an hour away (assuming there's no LA traffic which there always is) and I've been meaning to go with my neighbor but we're just waiting for the perfect opportunity to go (aka when both of us aren't busy with school or work). *Doesn't it just remind you of something out of Hogwarts?
Biblioteca Medicea Laurenziana – Firenze (Florence), Italy
My dream is to visit Italy and possibly live there for a few months. I learned enough of the language to get by and I really want to put it to use. Plus, Italy is full of beautiful buildings and art. 
Austrian National Library – Vienna, Austria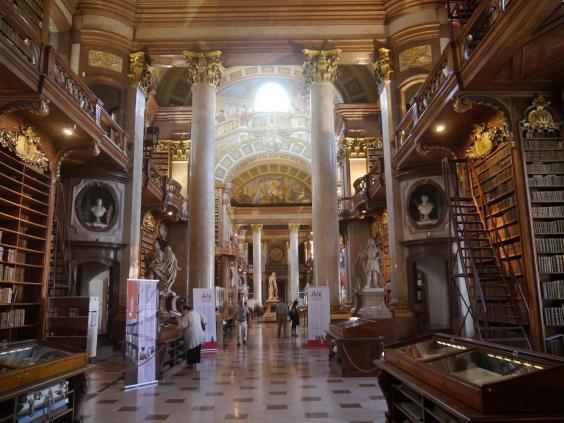 This one is so beautiful both inside and out! Just imagine walking down those luxurious halls looking up to bookshelves upon bookshelves of books! It sort of reminds me of the library from Beauty and the Beast. 
 Real Biblioteca del Monasterio de San Lorenzo de El Escorial – Monasterio de El Escorial, Spain
That was a mouthful. The library is set within a complex that includes a monastery, a castle, a basilica, a cemetery, and a college. Besides Italy, I really want to visit Spain and learn the Castilian Spanish – which is way more formal and fancy sounding than my Mexican Spanish. If I were to go to Spain I wold for sure take my parents with me. My dad once said that before he dies he wants to visit Europe, particularly Spain. 
Biblioteca Geral – University of Coimbra, Portugal
Ok, I lied. This library looks more of what I'd imagined Belle's library to be. It's so beautiful I could cry! The students of University of Coimbra are very lucky to have such amazing library. I think I would spend all of my spare time in this place. 
Admont Abbey Library – Admont, Austria
Just look at the magnificent paintings on the ceiling! Built in 1776, it is the largest monastery library in the world! It is 229.6 feet long (70 meters), 45.9 feet wide (14 meters), and 42.6 feet high (13 meters)! 
José Vasconcelos Library – Mexico City, Mexico
As pretty as this library is, I feel like this would give me either an anxiety or panic attack. I'm not particularly scared of heights, I'm more scared of falling and it seems like the different levels of this library is made of glass. I would visit I would just stay on the ground floor and admire from below.
El Ateneo Grand Splendid- Buenos Aires, Argentina
Labeled as one of the most beautiful bookshops in the world, El Ateneo is an opera theater turned bookshop. It is simply stunning both inside and out. 
Atlantis Books – Santorini, Greece
Built by two Americans who could not find a bookstore that sold books in English, this bookstore overlooks the sea in Greece. And to be honest, the inside looks like what I imagine my room to look like in a couple of years if I keep spoiling myself with books. 
I better end here before I get a severe case of wanderlust which will be crushed by the reality of not being able to afford it anytime soon.
Did you see any libraries or bookshops you want to visit? Are there any other places you'd recommend? Let me know!
Until next time!