Hey Bookworms!
I've decided why not make a post about my favorite TV shows? It will give me a chance to fangirl plus you can get to know me more. I will keep these spoiler free so don't worry an if you do comment please keep it spoiler free.
Currently Watching: *Including Netflix shows + regular on TV shows*
Lucifer –
I love this one so much! Lucifer is so funny and amusing – except for one little aspect that I cannot disclose due to spoilers. Let's just say I'm impatient for my ship to set sail for reals this time.
iZombie –
Usually I'm not into the whole zombie scene but hey it's a zombie with a conscious who helps solve crimes. Now that I've said that… Lucifer is also a crime show but with a demon. Oh, fun! And yes, I do enjoy crime shows except I find that after a while I get bored (sorry Criminal Minds!).
Riverdale –
When I first heard about this I was like ok what's the hype? But then my neighbor told me it was about the Archie comics (which I completely forgot about until the title made sense). At first (as in the first few minutes), I thought to myself oh great! Another modernized TV show based on comics/books. Let me explain. Think of Carrie, the Stephen King novel that got rebooted into another film not too long ago with Chloe Grace Moretz. I thought it was going to be like that. Where they changed a bunch of stuff to appeal the younger generations (ex: everyone had phones and technology that didn't even exist in the 70s). In the end, I gave it a chance and fell in love with it (he-llo Jughead Jones).
Supernatural –
I've been watching this since high school (I binge-watched the entire series one summer on netflix) and has taken over my life. The fact that the music featured on the show is classic rock was it for me and Dean 😍😍😍. I love the music and the whole aspect of it. I even adopted their wardrobe in high school. I bought a ton of flannels and bought more band shirts and would always wear my Doc Martens (which I still do occasionally). I even bought myself a trench coat like Castiel and went as him for halloween.
Gotham –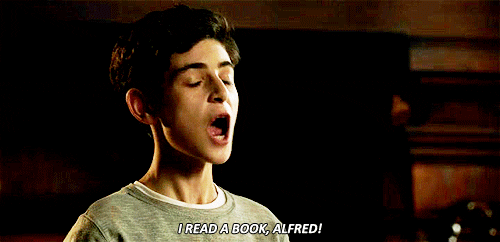 This is the only show that I partially gave up on. Here's the thing: when the new season release date was announced I was excited until I realized it was on at the same time as… Supernatural. I ditched Gotham and continued on with Supernatural. That doesn't change my love for Batman though and I will continue on with the series (once it comes out on Netflix)
Netflix Shows:
Rebelde (Rebel) –
Ok this was a popular TV show in the early to mid 2000s and it had a huge impact on my childhood. As with Supernatural, I was obsessed. Not only was it huge in Mexico but also in the US (among Hispanics). I had all the CDs and I still have a few today. When I discovered it was on Netflix I was done for. I've been rewatching the show almost religiously and I surprised myself that I still remember all the lyrics to the songs the main characters (they're in a band) sing. So much nostalgia and many cringe worthy scenes. This one will take me time to get through since it's about 440 episodes *nervous laugh* *You bet your butt I even had the uniform shown in the gif and wore it for my third grade picture day*
The Good Place –
This one's more recent and I've already finished binging the first season. My cousins introduced me to this one night I was at their house for my uncle's birthday. At first I didn't think I'd like it until I started really getting into it. I just found out Season 2 is on regular TV but I can wait until it goes on  Netflix.
Stranger Things –
This one comes relatively close to Supernatural on how much I love it. It's a show set in the 80s! C'mon! That is one decade I would die to time travel to. The music is phenomenal. The characters are amazing. It's so beautiful I love it so much. Everytime I see one of the Stranger Things kids on social media I feel like a proud parent. And yes I did made my own version of the alphabet lights in my room. 
Well, that's all for now folks! This list may grow since there are a few other shows that are saved on my Netflix list that I still need to get to.
What are some of your favorite shows? Are there any good shows on Netflix? I like crime, rom-com, and supernatural type of shows. Occasionally I'll watch historical or psychological shows or documentaries.
Until next time!