Greetings and Salutations bookworms!
Today I bring you a very large bookish playlist on my new favorite book of all time. I have included most of the songs mentioned (I only excluded film scores such as a song from Star Wars and a few others). I have also included songs I felt that went along with either the vibe of the book or the actual plot. I hope you guys enjoy.
Disclaimer: I will try my best not to include spoilers, but just in case you have been warned. For songs mentioned, I have decided to include a little fun fact (if applicable).
Key: M = Songs mentioned in the book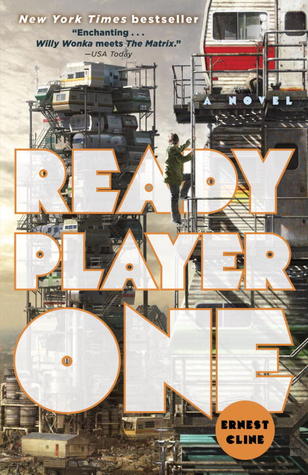 Dead Man's Party – Oingo Boingo (M)

This was the first song mentioned and right when I saw it I knew I was going to love this book. Dead Man's Party is my all-time favorite Oingo Boingo song.

Livi

ng on Video – Trans X

The song reminded me of the world that is the OASIS. It's oddly catchy and the lyrics itself give a sense of being in a simulation.
Key Lyrics: At the touch of a button
Flying through hyper-space
In a computer interface
Stop – living on video
Stop – integrated circuits
Stop – sur un faisceau de lumieres (on a beam of lights)*
Stop – is this reality?

The Wild Boys – Duran Duran (M)

I love Duran Duran and it baffles me that I have not heard of this song until the book. It's so good and it reminds me of Michael Jackson's Bad music video.

Beds Are Burning – Midnight Oil (M)

This is one of the many songs mentioned where I have heard of it, but I never knew the title. I love this song so much.

Video Fever – The Beepers (M)

Never heard of this, but if my research is correct, it's from a movie/videogame.

Safety Dance – Men Without Hats (M)

Blue Monday '88 Mix – New Order (M)

Union of the Snake – Duran Duran (M)

Fun Fact: Riverdale did a cover of this song.

Rebel Yell – Billy Idol (M)

Fun Fact: there's an explicit version of this song where one lyric is quite vulgar.

Time After Time – Cyndi Lauper (M)

James Brown is Dead – LA Style (M)

Atomic – Blondie (M)

Wake Me Up Before You Go-Go – Wham! (M)

I don't understand how Wade can hate this song. I love it.

Jump – Van Halen

When Wade was working out this song started playing and I thought it fit perfectly. I don't know about anybody else but Jump gets me motivated to go for a run or something. 

A Million Miles Away – The Plimsouls (M)

Change – John Waite (M)

In Your Eyes – Peter Gabriel (M)

Pour Some Sugar on Me – Def Leppard (M)

One of my favorite Def Leppard songs ever! I will admit that I used to sing this at the top of my lungs as a child and it wasn't until years later that I found out what it truly meant…

Kids Wanna Rock – Bryan Addams (M)

World in My Eyes (Circada Mix) – Depeche Mode 

This song isn't exactly mentioned in the book, but it is used in the trailer. 

2112 – Rush (M)

This refers to the song and album by the same name.

By Tor and the Snow Dog – Rush (M)

Wanted Dead or Alive – Bon Jovi

A song for Wade and the other Top Fivers as they hide from the Sixers

For Whom the Bell Tolls – Metallica

A song for an epic battle. I really wanna see a movie have this playing during a war scene (something other than the opening credits to Zombieland).

Danger Zone – Kenny Loggins

For when shit (excuse my language) goes down. 

Fight the Good Fight – Triumph

I can't remember why I picked this song, but let's just say it's a motivational song.

Subdivision – Rush (M)

I Do Believe (I Fell in Love) – Donna Summer

Thanks Mrs. Wheeler and Billy in that cringe-worthy scene in Stranger Things for introducing me to this song. Now I shall associate it with Wade (Parzival) and Samantha (Art3mis).

Breaking the Law – Judas Priest

Badass song for a couple of 'fugitives'

Just Another Day – Oingo Boingo

I can see this playing in the background during a specific scene in the beginning and I won't say it due to spoilers.

Fun Fact: this is my alarm ringtone.

Nothin' But a Good Time – Poison

For the people who use the OASIS as an escape. All they want is to have a good time and forget about the real world problems and then comes this power hungry company to ruin the fun. 

Tom Sawyer – Rush

This one was played in the trailer too and it's my favorite Rush song. 

Don't You (Forget About Me) – Simple Minds

I'm kind of sad The Breakfast Club wasn't mentioned in the book. A certain scene at the end of the movie could've been used towards the end of the book as well. Think Judd Nelson's fist pump. 

How Soon is Now? – The Smiths

This one has no relevance to the book, I just like this song.

Mr. Roboto – Styx

This one also reminded me of the OASIS. Plus it's super catchy.
Well, that's all folks! That was a long one (almost 1000 words!). I honestly can't wait for the movie to come out in March. I'll be counting down the days! I love the 80s (in case you didn't know) and unfortunately I was not born during that time. 
Have you read Ready Player One? Did you like it? Are you excited for the film as well?
Let me know in the comments what you think!
Stay amazing my friends,