Greetings and Salutations bookworms!
Today I bring you a review on a poetry book from an author I've been wanting to read. As you can tell by the title, it is on Amanda Lovelace's the witch doesn't burn in this one. I had the pleasure of receiving a galley at no cost from the author or Netgalley for my honest opinion and for that thank you!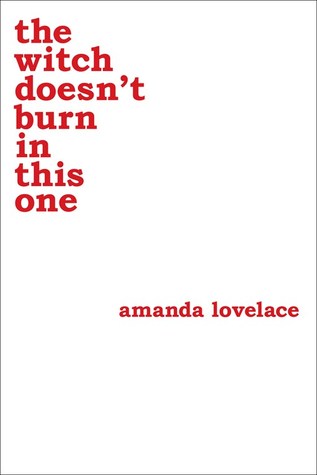 Title: the witch doesn't burn in this one
Author: Amanda Lovelace
Genre: Poetry, Contemporary
Publication Date: 6 March 2018
Rating:☆☆☆/5
From the author of the princess saves herself in this one, comes the sequel collection of poetry the witch doesn't burn in this one. This collection empowers women to take control of their own fairy tale and celebrates the femininity. It touches a wide range of topics from healing, loss, love, and much more. 
Now I have not read the preceding collection, the princess saves herself in this one, because I had no idea it was a mini series until afterwards when I saw it on Goodreads. 
I really enjoyed the overall sense of girl-power these poems gave out and the very straightforward tone of it all. For example:
"If

you can't

root for

 yourself, 

you don't 

just cut down

your tree

in order 

to spite

the ground

no–

you breath

step back,

& give yourself

the necessary

room to flourish.

– from the grimoire of the green witch"
The thing I like about contemporary poetry is the straightforward language used where it's not flowery and you don't have to reread it ten times and decode what each word means literally or metaphorically to understand it and that's what's shown in this collection. I also loved the trigger warning page in the beginning, which I think should be present in every book that has a possible trigger in it. Since I haven't read the first book, I'm not sure if it's include in that one as well.
However, there are a few things that weren't exactly my cup of tea. For example, there were quite a few really short poems and/or definitions included that I felt were just fillers and did not need to be there. The use of short 3-4 word poems can be powerful and impacting if used sparingly, but in this case I felt like it was a bit too much (e.g. some were back to back).
One other thing that bothered me is that while reading it, I felt angry. To me the book radiated hatred (mostly toward to male population) and I almost did not finish it because I did not want to keep feeling that way, but I pushed through. I do not believe I've read a book that made me feel like that. Don't get me wrong, we can feel all kinds of feelings while reading, but those can quickly go away and aren't consistent like in this case. 
I will make the recommendation to those who have read Lovelace's previous book and enjoyed it or are fans of the author, but if you don't want to feel pure hatred while reading this may be a pass for you. If the opportunity presented itself to continue on with this series, I may or may not pass the chance. 
I know it took me forever to write this review, but I needed time to collect my thoughts and well school started recently.
Have you read this collection or the first collection yet? What did you think about it? Let me know in the comments! You can preorder/purchase the book here.
Stay amazing my friends,