Greetings and Salutations your ghost with the most here.
It's been a while since I've written a review but to be honest, I haven't had the time to really sit down and write one. So, now I made time to sit down and write a review on the most amazing book I've  read so far (I love it so much). Before I begin, I'd like to thank the author, Ashley Woodlock, and the publisher for sending me a galley  to be reviewed.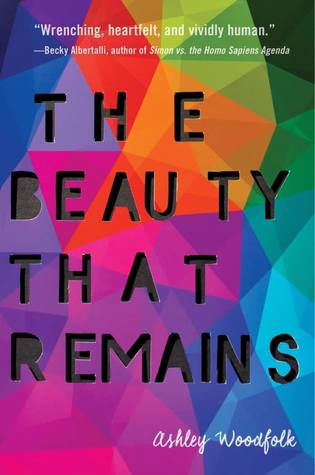 Title: The Beauty That Remains
Author: Ashley Woodlock
Release Date: March 2018
Genre: Contemporary, Young Adult
Rating: ★★★★★/5
Synopsis:
"Music brought Autumn, Shay, and Logan together. Death wants to tear them apart.
Autumn always knew exactly who she was—a talented artist and a loyal friend. Shay was defined by two things: her bond with her twin sister, Sasha, and her love of music. And Logan always turned to writing love songs when his love life was a little less than perfect.
But when tragedy strikes each of them, somehow music is no longer enough. Now Logan can't stop watching vlogs of his dead ex-boyfriend. Shay is a music blogger struggling to keep it together. And Autumn sends messages that she knows can never be answered.
Each of them wonders: How different would my life be if this hadn't happened? And now that it has . . . what's next?"
Note: Isn't the cover just beautiful? ♥♥
We begin by being introduced to three different characters (Autumn, Logan, and Shay) within the first three chapters and we are given an insight as to what maybe happening, but it won't actually register until the end of the chapter. I don't know about you but I was left with an ache in my heart for each character. I instantly wanted to gather the three of them and just hug them. Although it may seem like these three characters live different lives, we start to get a sense that they may be connected after all through a band called Unraveling Lovely. For Autumn, it's her best friend's brother's band, for Logan he was the lead singer, and for Shay she was the manager and close friends with one of the bandmates. After the fallout of this band, the band members drift away and live their separate lives and we see our main characters suffer a tragic tragedy.
The book itself is about grief and how everyone has a different way of coping with loss and finding something that will give them closure and a sense that it's time to let go after x amount of time. Personally, I was not able to fully understand exactly what they are going through, but I do know the pain of unexpectant loss of someone. Also, I will admit this book had me in tears quite a few times… ok more than a few. I cried and repeatedly texted my best friend that I love her and am extremely grateful to have her in my life and I can't wait to make her read it when it releases in 2018.
The characters were beautifully written and I loved how diverse they all were. The book was well written although there were a few parts where I just want to grab X person and shake them asking what are you doing? I didn't expect to love it as much as I did; I have found a new favorite.
I loved it so much. I'm sorry this review is quite short, but I don't want to give too much of the story away. It's something you will have to experience yourself.
This brings me to the end of another blog post. I will have another one out shortly with my favorite "scary" books as voted on Instagram.
Announcement, as I am close to 500 followers on Instagram, I wanted to do a little giveaway once I hit 500. Unfortunately, it will be US only (I'm sorry! The struggles of a fulltime student with no job :/) but the prize will be custom bookmarks. As I get closer to 500 I will reveal more information on my Instagram.
Stay spooky my friends,